BluXsky VIP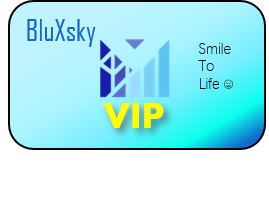 BluXsky VIP – treat you like a boss. All of our BluXsky VIP could enjoy themselves such as a boss. We try our effort to give the best service to our VIP. Not good, only the best. Try to become one of the BluXsky VIP, you can felt the warmful with us.
BluXsky VIP welfare
Benefit of having a BluXsky VIP Card
-Every BluXsky VIP could come down BluXsky café to get a free drink no matter is bubble tea, coffee, or ice-blended every Monday. This is because we try to get rid of your Monday blue and bring you some positive energy to face all the challenges during the week.
-The blue point will be given when the BluXsky VIP consume in our café. BluXsky VIP can use their blue point to redeem the food when the blue point is enough.
-Besides the blue point was given, BluXsky VIP will also get the 5% discount on their total bill.
-Every BluXsky VIP birthday boy and girl could enjoy their 25% discount on their total bill before and after 2 birthday's date. Besides that, BluXsky Café will also offer them a slide cake on their birthday day.
-BluXsky VIP could priority reserve their own VIP place or party room. There are 2 VIP commonplace for our VIP either meeting or just simply enjoyed the drink.